This dissemination event took place on the 31st of May 2016 in the premises of the Regional Council of New Aquitaine and brought together more than sixty participants from Germany, Belgium, Quebec and France.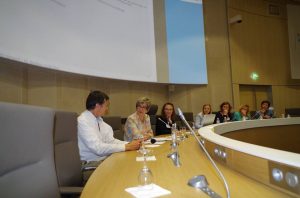 Mrs. Leonor Moncond'huy, Regional Councilor for New Aquitaine (Delegate for Community Life and Civic Service) opened the conference and then gave way to the partners to present their AKI project.
The plenary was followed by thematic workshops which brought together diverse participants (employers, employment and integration actors, international mobility, youth and institutional actors). They were able to discover and experiment the AKI tools.
A restitution of the workshops was made in plenary by voluntary rapporteurs. The AKI partnership has benefited from the exchanges to improve its deliverables.
Sandrine Doucet, MP of the first constituency of Gironde, involved in the recognition of learning outcomes of informal and non-formal learning, came to close the dissemination day.
Download file: all files are available in French only.
They are speaking about it: